Bow Wow Boutique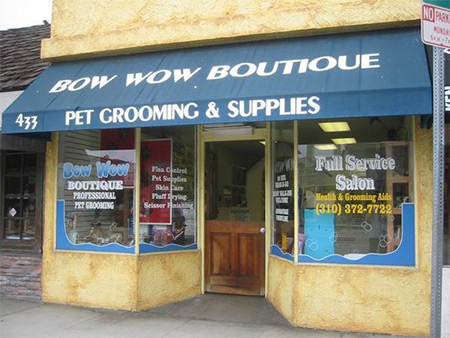 The grooming experts at Bow Wow Boutique have been serving pets and their owners for over 40 years. We proudly offer a full line of grooming services, complete with fluff-dry and scissor finish. We also provide a complete assortment of pet supplies. All dog and cat breeds are welcome!
Pet Grooming & Supplies
Bow Wow Boutique is your premier source for everything your furry friends need. We offer full-service grooming, wash-and-go express washes, haircuts, flea baths, nail trimming, anal gland expression and more. Our goal is to help your pet look and feel their best. We are committed to top quality care. That's why we complete our grooming with fluff-dry (hand dry) and scissor finish, for the best possible grooming experience. These detailed services have earned our established reputation for excellence in dog grooming in Hermosa Beach, CA. Our customers know we will take the time to answer questions, address concerns, and give their pets outstanding care.
At Bow Wow Boutique, we welcome all breeds of dogs, big and small. We also perform cat grooming in Hermosa Beach, CA. For your convenience, we also offer a full line of pet supplies. While your best friend gets a haircut, you can complete your shopping for leashes, collars, toys, flea control, health aids, grooming supplies, food dishes, I.D. tags and more. We are your one stop shop for all things pets! It's easy to see why our long list of satisfied customers continues to grow. Bow Wow Boutique invites you to take advantage of the many benefits offered by our services:
We are locally owned and operated, established in 1972.
We offer grooming services for all breeds of dogs and cats.
Our grooming services include detailed finishing with fluff-dry and scissor trim.
We provide a large selection of pet supplies to meet all your needs.
We are proud members of the Hermosa Beach Chamber of Commerce and World Wide Pet Supply Association (WWPSA).
Pamper Your Pet
Discover the purrfect place for all your pet's grooming and supply needs by contacting the pros at Bow Wow Boutique today.
Areas Served
Proudly offering pet grooming in the following areas: Los Angeles County CA, Hermosa Beach CA, Manhattan Beach CA, Redondo Beach CA, Torrance CA, Lawndale CA, Hawthorne CA, El Segundo CA, Palos Verdes CA, Gardena CA, Carson CA.