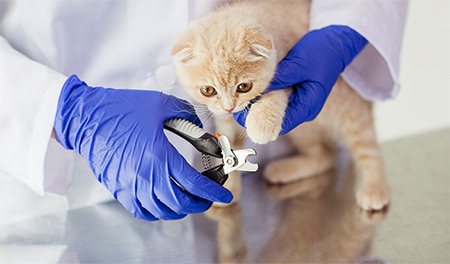 Bow Wow Boutique is proud to offer comprehensive grooming services for both cats and dogs. Our experienced professionals offer caring, detailed services to keep your pet looking good and feeling great. Our full line of grooming services includes:
Full-service pet grooming: Is your pet due for a complete makeover? Our expert grooming technicians will ensure your pet receives top-quality care. Our full-service grooming leaves them sparkling from snout to paw.
Wash-n-go express washes: At Bow Wow Boutique, we know your schedule can get hectic. That's why we offer express washes in 30 minutes or less. You'll get your dog grooming session in and be back home in no time.
Flea baths: Fleas are a nuisance so let our professionals handle them! We provide professionally-administered flea baths to keep those pests away and keep your pal feeling good.
Nail trimming: As part of our complete pet grooming in Hermosa Beach, CA, we include nail trimming services. We'll ensure their paws stay trim, to protect your pet, your floors, your furniture and your family.
Anal gland expression: Sometimes, your dog needs a little extra help for release. Our professional groomers can help provide the relief they need to keep them healthy.
Haircuts: Is it time to shed that extra coat? Bring your pet to our experienced trimmers to give them a healthy, neat cut that will keep them happy (and your house cleaner!)
Teeth brushing: This simple task can help your dog eat better and live longer. Don't forget this important part of your pet's grooming.
Ear cleaning: This is one step that pet owners often overlook. As your trusted pet groomer in Hermosa Beach, CA, we'll ensure your best friend's ears get the attention they need.
Scissor finishing: Unlike most groomers, Bow Wow Boutique grooms your pet with finesse. Our scissor finishing is a detail we will never overlook. Our scissor finishing ensures their cut looks great, down to the finest fluff.
Fluff-drying: Our final step in your dog or cat grooming session is to hand-dry their fur. This finishing touch is our way of offering the attention to detail you won't find at other groomers.
Bow Wow Boutique also offers a great selection of products. Our pet supplies include:
Leashes
Collars
Treats
Flea control
Health aids
Grooming supplies
Toys
Food dishes
I.D. tags
Gift certificates
Get your furry friend the grooming and pet supplies they need to keep them looking and feeling their best in Hermosa Beach, North Redondo, Manhattan Beach, and Los Angeles County, CA. Contact our professional groomers today at 310-372-7722.